Airplane mode in android is used to disable your device's WiFi, Bluetooth and most importantly the cellular radio.It disables the all possible ways by which your device could transmit data. The reason why there are so many regulations prohibiting the usage of mobile phones or any device capable of transmitting signals in aircraft is that the signals from these devices might interfere with the aircraft's signals.I am sure that no one would like that to happen when they are actually travelling in a flight.Airplane mode in android is there to help you in this situation and will let you use your device during flight.You could use your device to play music,view movies or videos, play games and much more which would have been not possible if there is no airplane mode.This will let you do everything with your mobile except calling and browsing as the device's ability to transmit and receive signals is shut off. This mode helps the mobile user to circumvent ban over usage of mobile devices in aircraft.But many planes do offer in-flight WiFi network.You need not worry, you could still enable WiFi in your device when the airplane mode is on.Airplane mode will still block the cellular signals while you keep accessing the in flight network.In near future you might be able to make calls also,until then the airplane mode is the only way out.Other benefits of airplane mode in android are discussed below.
Saves battery and lets your device charge faster
You could use the airplane mode as a battery saving option when you actually do not want to access wireless networks or any cellular networks and just want to use your device for watching movies or playing games. If you are running on a low battery, you can enable this mode to put a check to the  components responsible for battery drain in your device.Airplane mode does this by disabling WiFi, cellular radio and Bluetooth (wireless transmission functions). A large amount of your device's battery power is consumed in scanning where it tries to notify you when an open network is available and also when your device tries to catch the signals from cell towers. Airplane mode can be used to extend your device's battery life.But remember that, if you enable this mode to save battery, you will not be receiving calls or messages and could not access internet using mobile internet or mobile data. To let your device charge faster, you can enable airplane mode on your device and you could see that it gets charged speedily.
Troubleshoot the mobile network
Sometimes airplane mode can be used for troubleshooting your device's cellular network. If your device is facing problem in receiving mobile signals and there are a lot of fluctuations in mobile signal or non availability of mobile signals or sudden disruption in signals, you can enable airplane mode and disable it. Magically you could see that the mobile signal strength and calling functionality works fine in most cases. Now let us see what airplane mode really does.
What does Airplane mode in android do
When airplane mode is enabled in your device, the following hardware functions are disabled which include:
Cellular network: Once you enable airplane mode on your device, you won't be able to receive or send messages and make or receive calls using cellular networks. So you could not communicate using SMS or calling services.
WiFi: Your device will stop scanning for available WiFi networks and if you are already connected to WiFi, you will be immediately disconnected.
Bluetooth: Bluetooth which is again a wireless technology, is also disabled by the airplane mode. This would actually add to the frustration of those folks who use Bluetooth headsets and  speakers.
Tips to remember
You can still enable WiFi while travelling in an aircraft with the airplane mode on. Many airplanes offer in-flight WiFi networks where you could browse and stream videos happily. But remember that cellular signals will still be blocked.You can enable WiFi even when the airplane mode is on by heading over to settings menu and turning on WiFi.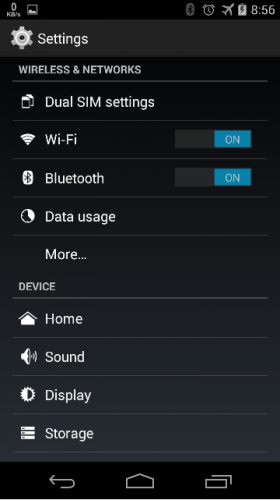 Similarly you can enable Bluetooth when airplane mode is enabled on your device. Before enabling it, please make sure whether you are allowed to enable it or not.
Also read: