Translated from Telugu to English as our readers have demanded
Author: R.Sridhar
Krishna Rao (K.Rao) has recently completed his B.Tech from a popular college with good placement record in the recent past. He got placed into a big software company during the placements with a package of 4 lakhs per annum. All his friends, relatives and family congratulated him. K.Rao was pleased by the support and encouragement given by everyone and had a million dollar smile on his face. He was very happy thinking of the bright and goods days ahead.
Suresh who lives in the very next lane, has failed in B.Sc (degree) exams. People around him started criticizing him on his failure and started comparing him with those successful students who have graduated from IIT's or reputed colleges and started working in IT hubs like Bangalore and Hyderabad. Suresh's father even tried to beat him out of frustration and constantly shouted at him saying that you have opted a cheap degree and you could not clear that too. His family members were very disappointed as he failed to fulfill their hopes and expectations. They have come to a conclusion that he is good for nothing and suitable only to settle down as a shopkeeper selling idly, dosa,milk or sweet paan.Worried about his future, his mother gave him 2 lakhs and asked him to start a small business to make a living. He decided to start milk business and borrowed 2 more lakhs.He has finally started a dairy by purchasing half a dozen buffaloes.
K.Rao was heading towards his office on his newly purchased bike on credit card. Whereas Suresh was driving a scooter with milk cans hanging on all sides of it. K.Rao looked at Suresh, smiled and waved at him proudly. Suresh had no smile on his face and hesitantly waved back and moved forward.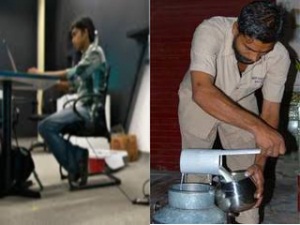 Six months passed by. K.Rao has paid 20% interest on his bike and was still left with actual 80000 to be cleared. Suresh has cleared half of his loan and has to clear another one lakh. When K.Rao was going to office, he has come across Suresh. Both smiled with many thoughts still running in their minds. Both were worried about the future and the debts to be cleared.
A year later, K.Rao was eagerly waiting for a salary hike. The software industry was hit by a thunderstorm called recession. The company has sent him a mail saying that there won't be a salary hike this year. That mail added to his tensions and took away smile from his face. Milk's cost has increased to Rs.14 from Rs.10 and Suresh's profit has increased by 30%. He has cleared his one lakh debt and her is free from all his debts.
K.Rao has worked hard and somehow managed to clear his bike loan facing many difficulties. Now he took a personal loan (16%interest) of 2 lakhs and purchased furniture, blazing fast laptop, LED Television and a double door refrigerator. Many have applauded him saying that he has achieved all this in less than 2 years and did what his dad could not achieve in 25 years of his service. Suresh has purchased few more buffaloes with the money he has saved and his profit has increased by 100%.Again both of them have come across each other where Suresh smiled with confidence that he does not have any debts to clear and K.Rao smiled with slight hesitation thinking about his debts and ways to clear his EMI's.
Two more years passed by and K.Rao has got 15% salary hike. He was a bit relaxed by this and took car loan to purchase Wagon R. Suresh has purchased two acres land in city outskirts and shifted his buffaloes to there. Now he has more than a dozen buffaloes and milk price has increased by 30%. Suresh's income has increased by 200% whereas K.Rao has got a name sake 15% hike. Suresh has purchased an auto to bring milk into the city. Again both have come across each other where Suresh smiled from auto expressing that it is his own auto and K.Rao could not smile wholeheartedly remembering his loans, tensions and worst salary hikes.
After 2 years K.Rao has purchased an apartment for 40 lakhs by taking home loan. Suresh has sold half of his land as the land prices have gone high and he has purchased two apartments without any loan. Now the count of buffaloes with him crossed century. K.Rao has got another 10% hike. Now the milk's price has crossed Rs.40 for liter which means a 30% more profit on each liter being sold for Suresh. Milk production at his farm has increased by 10 times and his profits have gone high by 500%. In a single shot Suresh has purchased a Skoda and an Innova. Both have again come across each other in their own vehicles. K.Rao was not happy from inside and was very worried about his unstable job and smiled with tension as he has to pay 40 lakhs for the apartment. Suresh has smiled with confidence of being an owner to a small sized milk factory with 50 employees in it.
K.Rao has been thinking for the whole night. After five years Suresh might end up with property of value more than 5 crores and monthly income of 5 to 6 lakhs whereas his annual salary would be around 7 to 8 lakhs per annum with home loan on head and unstable job. For a moment he felt like slapping the people who have clapped and congratulated him when he got this job.
True facts:
In 2008 the price of one liter milk was Rs.10, now it is more than Rs.40. 10 grams gold now costs around Rs.30000 which was around Rs.12500 in 2008. In these 4 years the salaries of software employees have increased by 30% whereas all the prices have increased by 300%. People keep crying at software employees as if they are earning crores of money. Share this with all those who cry like that and if you really feel that this is true.