Verb: bewilder
Pronunciation:(bi'wil-du(r))
Bewilder meaning:
Be confusing or perplexing to; cause to be unable to think clearly
Synonyms: confuse, throw, fox, befuddle, fuddle, bedevil, confound, discombobulate, perplex, vex, stick, get, puzzle, mystify, baffle, beat, pose, flummox, stupefy, nonplus, gravel, dumbfound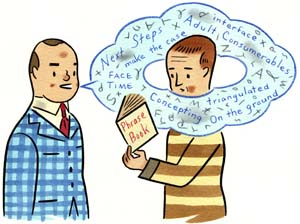 Cause to be confused emotionally
Synonyms: bemuse, discombobulate, throw
Derived forms: bewildering, bewildered, bewilders
Quotations:
Anaïs Nin – There were always in me, two women at least, one woman desperate and bewildered, who felt she was drowning and another who would leap into a scene, as upon a stage, conceal her true emotions because they were weaknesses, helplessness, despair, and present to the world only a smile, an eagerness, curiosity, enthusiasm, interest.
John Cheever – Fiction is art and art is the triumph over chaos… to celebrate a world that lies spread out around us like a bewildering and stupendous dream.
Nathaniel Hawthorne – No man, for any considerable period, can wear one face to himself and another to the multitude, without finally getting bewildered as to which may be the true.
Jhumpa Lahiri – Still, there are times I am bewildered by each mile I have traveled, each meal I have eaten, each person I have known, each room in which I have slept. As ordinary as it all appears, there are times when it is beyond my imagination.
Suzanne Collins – Peeta's awake already, sitting on the side of the bed, looking bewildered as the trio of doctors reassure him, flash lights in his eyes, checks his pules. I'm disappointed that mine was not the first face he saw when he woke up, but he sees it now. His features registrer disbelief and something more intense that I can't quite place. Desire? Desperation? Surely both, for he sweeps the doctors aside, leaps to his feets and moves towards me. I run to meet him, my arms extended to embrace him. His hands are reaching for mine too, to caress my face, I think.My lips are forming his name when his fingers lock around my throat.
Rainer Maria Rilke – And your doubt can become a good quality if you train it. It must become knowing, it must become criticism. Ask it, whenever it wants to spoil something for you, why something is ugly, demand proofs from it, test it, and you will find it perhaps bewildered and embarrased, perhaps also protesting. But don't give in, insist on arguments, and act in this way, attentive and persistent, every single time, and the day will come when, instead of being a destroyer, it will become one of your best workers, perhaps the most intelligent of all the ones that are building your life.
J.K. Rowling – But, surely you know where your nephew is going?' she asked, looking bewildered.'Certainly we know,' said Vernon Dursley. 'He's off with some of your lot, isn't he? Right, Dudley, let's get in the car, you heard the man, we're in a hurry.'Again, Vernon Dursley marched as far as the front door, but Dudley did not follow.'Off with some of our lot?' Hestia looked outraged. Harry had met the attitude before: witches and wizards seemed stunned that his closest living family took so little interest in the famous Harry Potter.'It's fine,' Harry assured her. 'It doesn't matter, honestly."Doesn't matter?' repeated Hestia, her voice rising ominously.'Don't these people realise what you've been through? What danger you are in? The unique position you hold in the hearts of the anti-Voldemort movement?'Er – no, they don't,' said Harry. 'They think I'm a waste of space, actually, but I'm used to, "I don't think you're a waste of space.'If Harry had not seen Dudley's lips move, he might not have believed it.
Brennan Manning – We should be astonished at the goodness of God, stunned that He should bother to call us by name, our mouths wide open at His love, bewildered that at this very moment we are standing on holy ground.
Judith McNaught – What are you looking at?" Jordan demanded finally, watching her. "A dragon." When he looked bewildered she lifted her arm and pointed to the sky in the southeast. "Right there—that cloud—what do you see when you look at it?" "A fat cloud." Alexandra rolled her eyes at him. "What else do you see?" He was quiet for a moment studying the sky. "Five more fat clouds and three thin ones.
Jhumpa Lahiri – While the astronauts, heroes forever, spent mere hours on the moon, I have remained in this new world for nearly thirty years. I know that my achievement is quite ordinary. I am not the only man to seek his fortune far from home, and certainly I am not the first. Still, there are times I am bewildered by each mile I have traveled, each meal I have eaten, each person I have known, each room in which I have slept. As ordinary as it all appears, there are times when it is beyond my imagination." (from "The Third and Final Continent")
Sample sentences:
When you're lost in those woods, it sometimes takes you a while to realize that you are lost. For the longest time, you can convince yourself that you've just wandered off the path, that you'll find your way back to the trailhead any moment now. Then night falls again and again, and you still have no idea where you are, and it's time to admit that you have bewildered yourself so far off the path that you don't even know from which direction the sun rises anymore.
Have you ever seen anything quite as pathetic?" said Malfoy. "And he's supposed to be our teacher!"Harry and Ron both made furious moves toward Malfoy, but Hermione got there first SMACK! She had slapped Malfoy across the face with all the strength she could muster. Malfoy staggered. Harry, Ron, Crabbe, and Goyle stood flabbergasted as Hermione raised her hand again."Don't you dare call Hagrid pathetic you foul—you evil—""Hermione!" said Ron weakly and he tried to grab her hand as she swung it back."Get off Ron!"Hermione pulled out her wand. Malfoy stepped backward. Crabbe and Goyle looked at him for instructions, thoroughly bewildered."C'mon," Malfoy muttered, and in a moment, all three of them had disappeared into the passageway to the dungeons."Hermione!" Ron said again, sounding both stunned and impressed.
A library is a good place to go when you feel unhappy, for there, in a book, you may find encouragement and comfort. A library is a good place to go when you feel bewildered or undecided, for there, in a book, you may have your question answered. Books are good company, in sad times and happy times, for books are people – people who have managed to stay alive by hiding between the covers of a book."[Letters of Note; Troy (MI, USA) Public Library, 1971]
Being a sex symbol is a heavy load to carry, especially when one is very tired, hurt and bewildered.
I had learned early to assume something dark and lethal hidden at the heart of anything I loved. When I couldn't find it, I responded, bewildered and wary, in the only way I knew how: by planting it there myself.
Life is easy to chronicle, but bewildering to practice.
So now you must choose. Are you a child who has not yet become world-weary? Or are you a philosopher who will vow never to become so? To children, the world and everything in it is new, something that gives rise to astonishment. It is not like that for adults. Most adults accept the world as a matter of course. This is precisely where philosophers are a notable exception. A philosopher never gets quite used to the world. To him or her, the world continues to seem a bit unreasonable – bewildering, even enigmatic. Philosophers and small children thus have an important faculty in common. The only thing we require to be good philosophers is the faculty of wonder.
But we were at your parents' dining table." I stare up at him, completely bewildered."No one's ever said no to me before. And it's so hot.
No story is a straight line. The geometry of a human life is too imperfect and complex, too distorted by the laughter of time and the bewildering intricacies of fate to admit the straight line into its system of laws.
There is no deception on the part of the woman, where a man bewilders himself: if he deludes his own wits, I can certainly acquit the women. Whatever man allows his mind to dwell upon the imprint his imagination has foolishly taken of women, is fanning the flames within himself and, since the woman knows nothing about it, she is not to blame. For if a man incites himself to drown, and will not restrain himself, it is not the water's fault.
He put his hand on my waist, and my heart began to pound, a rougher rhythm than the music. I held my skirt. Our free hands met. His felt warm and comforting and unsettling and bewildering all at once.
He was dead before. He knew it, didn't you see it in his eyes? My jacket." "Your jacket?" I say, with enough force that my shaky voice makes Corr start. "How about 'my jacket, please.' " Sean Kendrick looks at me, perplexed, and I can see he hasn't a clue of why I'm upset with him. Why I'm upset at all. I can't stop shaking, as if I've taken all of Corr's trembling and made it my own. "That's what I said," he says after a pause. "No, it's not." "What did I say?" "You said my jacket." Sean looks a little bewildered now. "That's what I said I said.
She smiled radiantly at the shield, pretending it was Dageus. The three simple words just didn't seem like enough. Love was so much larger than words."I love you, I love you, I love you. I love you more than chocolate. I love you more than the whole world is big." She paused, thinking, searching for a way to explain what she felt. "I love you more than artifacts. I love you so much it makes my toes curl just thinking about it."Pushing her hair back from her face, she donned her most sincere expression. "I love you.""You can have the confounded shield if you love it that much, lass," Dageus said, sounding utterly bewildered. Chloe felt all the blood drain from her face.
Before Tessa could answer, there was a knock at the door, and a familiar voice. "It's Jem. Tessa, are you there?"Charlotte sat bolt upright. "Oh! He mustn't see you in your dress!"Tessa stood dumbfounded. "Whyever not?""It's a Shadowhunter custom—bad luck!" Charlotte rose to her feet. "Quickly! Hide behind the wardrobe!""The wardrobe? But—" Tessa broke off with a yelp as Charlotte seized her about the waist and frog-marched her behind the wardrobe like a policeman with a particularly resistant criminal. Released, Tessa dusted off her dress and made a face at Charlotte, and they both peeked around the side of the furniture as the seamstress, after a bewildered look, opened the door.Jem's silvery head appeared in the gap. He looked a bit disheveled, his jacket askew. He glanced around in puzzlement before his gaze lighted on Charlotte and Tessa, half-concealed behind the wardrobe.
It is a well-known established fact throughout the many dimensional worlds of the multiverse that most really great discoveries are owed to one brief moment of inspiration. There's a lot of spadework first, of course, but what clinches the whole thing is the sight of, say, a falling apple or a boiling kettle or the water slipping over the edge of the bath. Something goes click inside the observer's head and then everything falls into place. The shape of DNA, it is popularly said, owes its discovery to the chance sight of a spiral staircase when the scientist=s mind was just at the right receptive temperature. Had he used the elevator, the whole science of genetics might have been a good deal different.This is thought of as somehow wonderful. It isn't. It is tragic. Little particles of inspiration sleet through the universe all the time traveling through the densest matter in the same way that a neutrino passes through a candyfloss haystack, and most of them miss.Even worse, most of the ones that hit the exact cerebral target, hit the wrong one.For example, the weird dream about a lead doughnut on a mile-high gantry, which in the right mind would have been the catalyst for the invention of repressed-gravitational electricity generation (a cheap and inexhaustible and totally non-polluting form of power which the world in question had been seeking for centuries, and for the lack of which it was plunged into a terrible and pointless war) was in fact had by a small and bewildered duck.By another stroke of bad luck, the sight of a herd of wild horses galloping through a field of wild hyacinths would have led a struggling composer to write the famous Flying God Suite, bringing succor and balm to the souls of millions, had he not been at home in bed with shingles. The inspiration thereby fell to a nearby frog, who was not in much of a position to make a startling contributing to the field of tone poetry.Many civilizations have recognized this shocking waste and tried various methods to prevent it, most of them involving enjoyable but illegal attempts to tune the mind into the right wavelength by the use of exotic herbage or yeast products. It never works properly.
I must make two honest confessions to you, my Christian and Jewish brothers. First, I must confess that over the past few years I have been gravely disappointed with the white moderate. I have almost reached the regrettable conclusion that the Negro's great stumbling block in his stride toward freedom is not the White Citizen's Counciler or the Ku Klux Klanner, but the white moderate, who is more devoted to "order" than to justice; who prefers a negative peace which is the absence of tension to a positive peace which is the presence of justice; who constantly says: "I agree with you in the goal you seek, but I cannot agree with your methods of direct action"; who paternalistically believes he can set the timetable for another man's freedom; who lives by a mythical concept of time and who constantly advises the Negro to wait for a "more convenient season." Shallow understanding from people of good will is more frustrating than absolute misunderstanding from people of ill will. Lukewarm acceptance is much more bewildering than outright rejection.
A lonely, quiet person has observations and experiences that are at once both more indistinct and more penetrating than those of one more gregarious; his thoughts are weightier, stranger, and never without a tinge of sadness. . . . Loneliness fosters that which is original, daringly and bewilderingly beautiful, poetic. But loneliness also fosters that which is perverse, incongruous, absurd, forbidden.
Art altogether is nothing but a survival skill, we should never lose sight of this fact, it is, time and again, just an attempt – an attempt that seems touching even to our intellect – to cope with this world and its revolting aspects, which, as we know, is invariably possible only by resorting to lies and falsehoods, to hyprocrisy and self-deception, Reger said. These pictures are full of lies and falsehoods and full of hypocrisy and self-deception, there is nothing else in them if we disregard their often inspired artistry. All these pictures, moreover, are an expression of man's absolute helplessness in coping with himself and with what surrounds him all his life. That is what all these pictures express, this helplessness which, on the one hand, embarasses the intellect and, on the other hand, bewilders the same intellect and moves it to tears, Reger said.
Some people are attracted to sickness, to the kind of madness where sparks fly off the head, to the incoherence of despair, masked by nervous energy, which winds up looking like bewildered joy.
He said he loved me," she whispered.Daniel swallowed, and he had the strangest sensation, almost a premonition of what it must like to be a parent.Someday, God willing, he'd have a daughter, and that daughter would look like the woman standing in front of him, and if ever she looked at him with that bewildered expression, whispering, "He said he loved me." Nothing short of murder would be an acceptable response.
The alphabet soup of options offered by rental car companies can bewilder travelers.
Often they bewilder their publicists, who have to break it to readers that their favourite writer's next book will not be about the SAS but flower arranging.