We all know that Microsoft failed to get a meaningful market share in the smartphone market. By the time Microsoft started to act, it was too late for them. Both Android and Apple's iOS are leading the market. Although Android OS didn't create any ruckus in the beginning, it grew gradually and became the most endearing operating system now. I somehow believe that Microsoft was never laser focused on mobile industry unlike Apple and Google.  Microsoft has too many things to focus on (say Windows, Office, Servers, Services etc..,). Even if they tried hard, I don't think they would have succeeded in beating Apple or Google as they are backed by huge open source communities and strong mobile app base. Well, the topic isn't success or failure of Microsoft in mobile market. Let me get into the topic of this article before I annoy you.
Also read: 
What is the first windows phone and who was the manufacturer of first windows phone?
We cannot name a single device as the first windows phone. The reason is explained below.
For all those who do not know, 'Windows Phone' is a family of mobile OS developed by Microsoft. Windows Phone 7 was the first version or first release, released on October 21, 2010. Although Microsoft unveiled this OS at the Mobile World Congress on February 15, 2010, the final SDK was made available in September 2010. Since Microsoft announced almost 10 launch devices for Windows Phone 7 made by multiple manufacturers (namely HTC, Dell, Samsung and LG) , we cannot name a single device as the first windows phone. The sales of these devices began on October 21, 2010. Many other manufacturers partnered Microsoft after the release of Windows Phone 7's revision called 'Mango'.
List of Windows Phone 7 devices:
| | |
| --- | --- |
| Product | Release |
| Samsung Omnia 7 | October 2010 |
| LG Optimus 7 | October 2010 |
| HTC 7 Trophy, HTC 7 Mozart, HTC HD7 | October 2010 |
| Dell Venue Pro | November 2010 |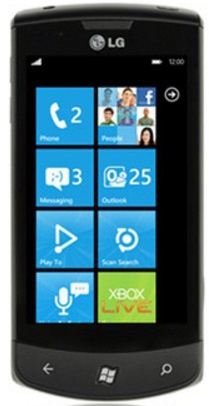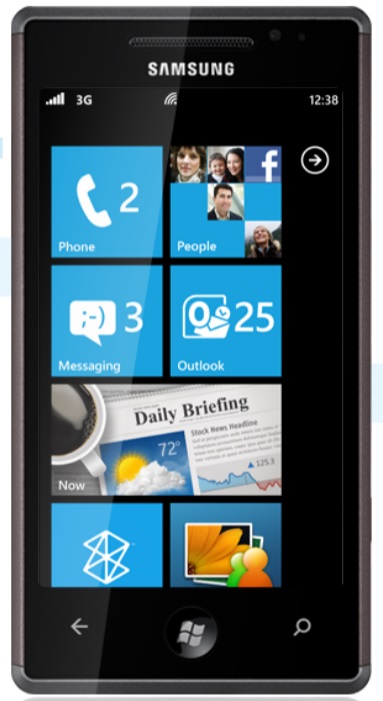 Almost all the devices mentioned in the above list featured a one GHz processor and 512 MB of RAM. They featured a 5 megapixels rear camera and a built in digital compass (not all though).
Also read:
What are the features of Windows Phone 7?
The home screen comprises of live tiles which could be customized or rearranged by the user. These help in launching apps. The one feature I love in Windows Phone 7 is the way social integration is done. Data from popular social networks is pulled and contacts are well aggregated from multiple sources. The built in web browser is Internet Explorer Mobile which supported up to six tabs, multi touch gestures, smooth zooming, save pictures, share web content etc.., The most important feature which everyone needs or expects from Microsoft is Microsoft Office Apps. Microsoft didn't disappoint in this space. Office hub in this OS organizes all the Office applications and docs in your mobile and allows you to view and edit almost all the Microsoft Office file formats directly on your windows phone. Microsoft had a strict requirement to have a dedicated search button on the front of the device for the devices running on Windows Phone 7 which allows users to search within the launched application or Bing. These are the few noticeable features. Let us know in the comments section if you know any more interesting details about any of these devices or this operating system.