If you are passionate about blogging or want to get success online through your website, the first thing you have to do is buying a domain name of your own instead of using services like WordPress or Wix where the domain names look like yoursiteaddress.wordpress.com and yoursiteaddress.wix.com. Though you could create a free website using such services, there would be many limitations like you cannot own a custom site address, cannot start an eCommerce site and many more. One need not own a company or organization to register a domain name. All you need to do is to approach some registrar and pay some registration fee which would cost you less than $10 for one year. Before moving into details of registration overview and step by step instructions on how to buy a domain name, let us have a look at all the factors that make a domain name stand alone in getting success online.
Importance of registering your own domain name
Owning a brandable domain name will create user loyalty and connects your targeted customers and ultimately motivates the visitor or buyer.
Your domain name is the only way by which people recognize where the links lead them to which are promoted in social media like Facebook and Twitter. Even if you run ad campaigns, the domain name plays a key role.
Domain name plays a key role in ranking by search engines to generate the search engine result pages.
Your domain name will directly impact your SEO.
Domain name will also influence your click through rates.
To know more about the importance of a brandable domain name in getting success online, Read Importance of domain name in getting success online and all the factors that make a domain name stand alone.
It is clear that you have chosen a domain name for your blog or website or have few backup names by now and now got ready to buy that domain name. But do you know that there are few rules which you might have neglected while choosing your domain name. These factors if neglected will cost you a lot as each factor will help you in choosing the right domain name.
Few rules for choosing a great domain name
Your domain name should match your brand name.
It should be unique, catchy and memorable.
Your domain name should not contain numbers and hyphens.
Search for copyright infringement.
Does your domain name has the keyword you are targeting?
Is the domain name you have chosen available in social networks? Having a common name across all networks will obviously solidify your brand name.
Consider reading this article which clearly explains all these rules and many other to help you choose a great domain name. How to choose a great domain name to get success online.
Let us quickly move into details of how to buy a domain name of your own
Let me first explain you the registration overview. You can directly visit the website of any of the top registrars, check availability of your desired domain name and if available , then directly pay the registration fee and own your domain name within minutes. I suggest you to buy the domain name for a period of over 3 years or 2 years at least at the beginning only. There would be discounts in general if you pay at a time for more than one year.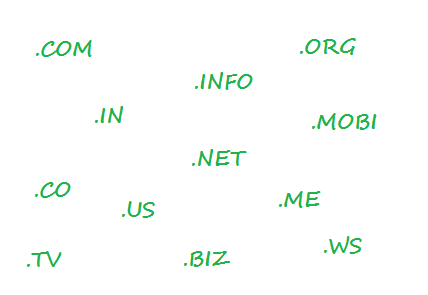 Remember that top domain registrars are not top web hosting providers. Many choose a different web hosting service to host their site and map their domain name. Many web hosts will offer a free domain name for one year if you decide to host your site or blog with them. I personally think that this is a better idea to follow. Few such hosts which offer a free domain name for one year are iPage and bluehost. I hosted my website with iPage and you can read this review before signing up and you would know why I have opted for iPage. iPage review and our experience.
If you decide to buy the domain name instead of getting it for free for one year at the web host, then you need to have a credit card or PayPal account to purchase.After adding the domain name to the cart, all the domain name registrars will prompt you to buy few additional things like Privacy packages and Email package.Let me explain them clearly.
Privacy relates to protecting your personal information.Features include the following
Hide your personal information from WHOIS searches and protect your identity.
Stop domain hijacking.
Prevent domain related spam.
Protection against stalkers.
Few registrars do not charge for this additional feature of offering privacy for your details.
Adding Email to your domain ( say admin@spinfold.com ) Features will include more storage space, desktop tools or Microsoft Office tools.
I suggest you not to add any of the additional packages to your cart.Because you will get all these features included in your package when you buy hosting space from a web host.These domain name registrars will try to trap you while purchasing a domain name by offering many unnecessary things like privacy protection, rank better in search engines etc., Do not fall for them and straight away proceed to checkout.
Domain name registrars to register your domain name
There are too many services out there to buy a domain name.Since I cannot discuss about all of them, I would talk about three of them which are the most popular in this field and which I have tested personally with my accounts.I will discuss about each one of them below.All these are ICANN (Internet Corporation for Assigned Names and Numbers)accredited registrars.
Namecheap : I could say that Namecheap offers a low priced registration and good service.Their DNS service is reliable and there would be no downtime.They also offer one year free Whois Guard privacy protection service.You can easily customize your parking page and the control panel is efficient.Features like nameserver registration and domain push are included with every domain registration.
BigRock: BigRock.in is India's number one destination for websites.Over 6 million customers trust their platform for Domain Registration, Web Hosting, Website Design and more.Good thing with them is that they offer two free email accounts with the domain registration.Domain theft protection is also free with the domain registration.
GoDaddy :The prices at GoDaddy are a bit high when compared with other registrars.But their service and customer support is very good.They have been the world's leading domain name registrar from past few years.
If you still have any doubts regarding domain name registration, please write in the comments section and we are here to help you.