We all are familiar with the concept of MRP (Maximum Retail Price) when it comes to the matter of buying anything. However we all do not have any clarity on pricing of used goods that is either buying or selling of used goods.Both the buyer and the seller is unsure about the reasonable price at it which the transaction could be done and always the transaction value ends up either being very low or very high.Is there a solution to this problem where both the seller and buyer would end up being satisfied and the price is reasonable.
Quikr has come up with a solution: Quikr offers us a place where the local communities within a city or a town could come together, meet and trade.It's network is huge where over 1.8 crore consumers use this every month.Quikr has finally pioneered a beautiful new concept called MSP (Maximum Selling Price)
What is MSP and How is Maximum Selling Price calculated? Quikr's team designed an efficient algorithm that uses various data resources to arrive at a reasonable resale price for whatever used goods you have calculated for from over 160 categories.The algorithm they have designed takes into account the pricing details of a particular item to be sold in every category based on similar products listings and data from past many months.Since Quikr has a huge database and large user base, the MSP calculator they have designed generates a timely and credible resale values for your goods.Thus it offers a great tool for both buyers and sellers where they could get good information about prevailing market rates for used goods.
How to use MSP calculator? www.Quikr.com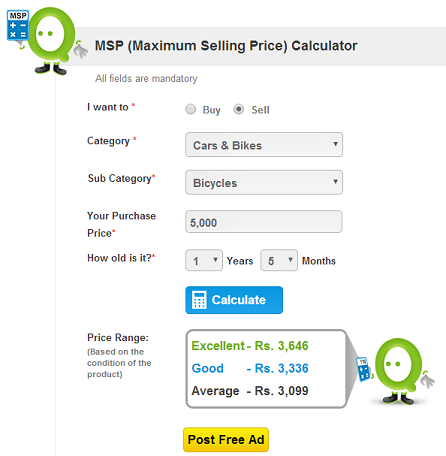 Select the appropriate checkbox which refers to whether you want to buy or sell and then proceed by selecting the category.This further prompts you to select a sub category,Fill out your purchase price if are selling a used item.Furnish the details of the item saying how old is it and then click on calculate.Magically Quikr gives you the Excellent, Good and Average selling price of your used item.
Share this and let your friends also know and get benefited by this amazing calculator which would help them in getting a good resale price for their used items and know the max selling price.
Also read: