Here is our personal experience with iPage and complete iPage review.Read this iPage review completely to know why iPage is superior when compared to other hosts and very good for small businesses and offers great features at very low prices.Most importantly you will come to know the insights which no other website would give as we have tested our many accounts in iPage and we are happy with their service.When we were about to start our website in March 2013, we were very new to blogging and had very little knowledge about hosting a website and running it on wordpress. When we were about to start, we had no idea about the features to be taken into consideration while choosing a suitable host like uptime, good customer support, easy backups, bandwidth offered, disk space etc..We were just cross checking the pricing plans of all hosts and found that iPage is offering many features at lower prices and finally decided to start with iPage and we did not do a mistake by doing so.I could assure all the new bloggers and upcoming entrepreneurs that iPage offers the best plan and has been in this business since 1998 and is reliable.
Always evaluate a hosting company based on the following factors
Being a blogger, developer and tech enthusiast from past many years, I have studied all factors which need to be considered to evaluate a hosting service.I could say that the following factors are key while choosing a web hosting service,for hassle free operations and even success in the world wide web.
Value for money.
Resources and ease of use for beginners.
High performance delivering control panel.
Up-time guarantee and Reliability.
Customer Support.
Is it really optimized for the platform you have chosen.
I am running more than five to six websites and experimented with many web hosting services like Bluehost, Hostgator, GoDaddy etc., What made me transfer most of them back to iPage is important and might help you too in making a decision.I will talk about iPage Essential plan which is basically a shared hosting plan which addresses all the requirements for a beginner as well as a professional.One of my website was down when we have experienced a sudden increase in traffic when hosted using a shared hosting plan in a different hosting company .Without even notifying us, they have blocked our site saying that this is a shared hosting plan and asked us to change our plan to VPS hosting.I was totally mad and angry listening to their response because, it will no way help me and I am losing valuable traffic at peak time which will hinder my site's reputation.
What iPage did when there was a sudden hike in traffic? One of my website has experienced a sudden hike in traffic on a day(approximately 70000 unique page views on a single day).iPage has not blocked our site and we did not experience a downtime though it was a shared hosting and it is too much for a shared hosting server to take.The page load time was a bit high on that particular day and all I have to hear from iPage was a soft message saying that,"Please consider our VPS hosting plan,since the site's traffic rates are high."I have replied them that even we did not expect such traffic and thanked them for their good service.I have to really appreciate their way of balancing load on their servers and seeing that every customer is happy at the end of the day.This was one of my great experience with them.Let me explain you one more great experience with them by which I have decided to host my other sites in iPage with no second thought.
Once the IP address of the shared hosting server where one of my websites was hosted was listed in CBL (Composite Blocking List).I was very much worried and checked for the reason.It was because of a different website on the same server which has a infected link.I have immediately created a ticket in my support console and they have responded in no time.They have immediately suspended that website and ensured that the remaining sites are safe.This clearly explains how much they value for their customers and this has impressed me a lot.Please see the below screenshot which depicts the same.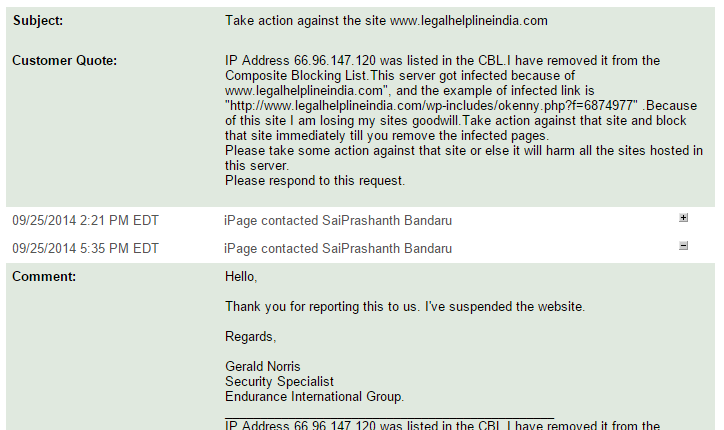 Continue reading to get more insights.
The first question that comes into everyone's mind when they are about to sign up for hosting space is "Up-time guarantee and reliability of the company".
Continue reading this iPage review to know whether iPage excelled in this matter or not.They have been offering great deal of flexibility without over complicating things from past ten years and supporting over a million customers without trapping their customers into their services.When it comes to downtime affecting the success of every blogger or any website trying to achieve some strong web presence, you would be happy to hear that till now we have not faced an issue with iPage in this matter.But I have to quote an incident where all their servers in Boston data center were affected by some network issue and many customers faced downtime.They were real quick in resolving that serious issue and gave timely responses to all the customers and stood by them.The point to be noted is that they are delivering success addressing one customer at a time.They assure a 99% up-time for whatever hosting plan you choose.
Give it a try as you could get your money back at anytime.
If you are not satisfied and feel that it doesn't fit your needs, iPage will refund your amount!! Unlike other web hosts which lock you into a multi-year payment term by offering great discounts ,their anytime money back guarantee ensures that you are not stuck and issue you a refund for the remainder of your current payment term.During the first 30 days they will refund you the complete amount.
Their Essential plan has been robust and includes everything we need to put our business online.I will quickly take you through the core features which we expect from a web host and how iPage excelled in making having a website easy for beginners as well as experienced webmasters.
Unlimited Disk Space, Unlimited Transfer/Bandwidth, Unlimited domains, Unlimited MySQL Databases.(Plan is just perfect for any beginner and any small business online. This plan would not suit only a website which involves video streaming as it consumes lot of bandwidth and since it is a shared hosting plan, it is better not to opt this plan)
Want to start an online store and sell anything? Then you are all set.The plan includes Free Online Store, Choice of Shopping Cart (ShopSite Shopping Cart, osCommerce Shopping Cart , AgoraCart Shopping Cart),PayPal Integration etc.,
A free domain name for one year.
Send and Receive email – Web mail addresses at your domain(Example: admin@spinfold.com or yourname@yourbusiness.com), Auto-responder which forwards the mails you received to your personal or any other web mail and also offers customizable spam filters and virus checking which helps you in blocking emails from certain addresses.
Free Drag and Drop site builder, blog setup wizard, photo gallery setup wizard and template based site builder.(Continue reading the article to dig deep into the details of all these features and to know all the Geeky features)
Features which will make you feel better: iPage offers a 24/7 Network monitoring, NetApp Snapshot Data Backups which will help you in recovering your site from a crash or unexpected disaster, access logs and error logs, bandwidth and disk usage monitor.
Visitor statistics and site traffic reports which will help you in analyzing your sites performance and credibility.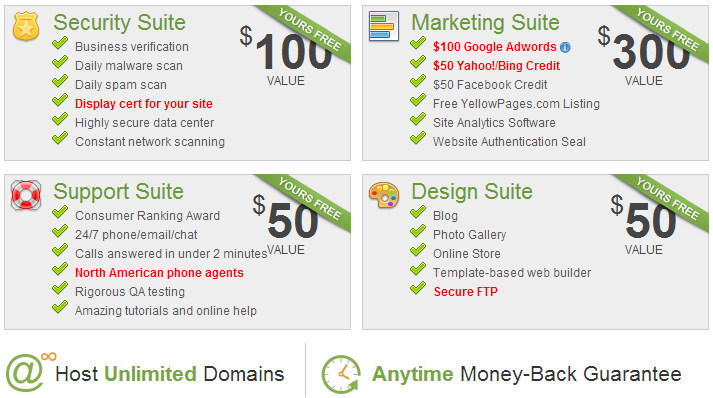 Powerful and high performance delivering control panel
When you sign up for an iPage hosting plan, you get access to an administrator panel called control panel. The control panel is where you find all your tools to manage, customize and build your site.You can build a website in less than 10 minutes and good thing is that iPage provides beautiful guides which will help every one to build a better website even without any technical knowledge.The control pane is simple and well organized.
Features of control panel that will help you in designing and building your website in a go is the main thing to be discussed in iPage review:
iPage control panel powered by Mojo market place offers one click installs on the most popular Open source apps like WordPress, SimpleScripts etc., The best part is that you could install scripts and applications directly onto your domain name.You can have your wordpress website up and running in less than 5 minutes. The tutorial iPage has provided us to build websites and setup one click installs helped us in a hassle free installation. The tools provided help in easy maintenance, upgrade and customization.The contol panel had options to build web pages in quick time using a drag and drop builder and goMobi site builder to build sites which are optimized for mobiles and many more options like simple scripts, website creator by CM4all. Or we can just use the FTP option to directly upload the webpages,which we used very rarely for serving the purposes like uploading the files downloaded while registering with webmaster tools offered by popular search engines to track our statistics.What we could say is that setting up a website by non techies was never been this easy.
The drag and drop builder helps you to quickly build a site by just dragging and dropping items and deleting them.The drag and drop builder offered by iPage is Weebly drag and drop builder.If you are strong in website building and much aware of technologies used to build websites, then you have a lot in stock at iPage.
The following are the features they provide which are much advanced and could be utilized to manage, maintain and customize your website.
The hosting utilities and settings: File Manager, FTP Manager, Secure FTP, Custom Error Pages, URL (Uniform Resource Locator)Redirect Service, MIME Types
Supported software and scripts: PERL support, Server side includes, Website backup software's
Multimedia features to build a stunning site: Real audio and video support, Flash support, Macromedia Shockwave, MIDI File Support
Power plugins: Content management systems like Joomla, Drupal, Mambo, e107
Blogging platforms: WordPress, PixelPost, b2evolution
Photo galleries offered: Gallery2, Coppermine, ZenPhoto
Forums: Gbook, phpBB, SMF
Marketing tools and Advertising Credits:
iPage offers credits for all the major search engines and we have used this credits to promote our website and they helped us in  a great way by letting the word out about our website.You get access to online marketing guides, $100 Google Adwords offer, $50 Yahoo or Bing Sponsored search, $50 Facebook credit, free Yellowpages.com listing and much more.You can make use of free toll-free phone number for your business with auto receptionist and change routing or forwarding features(100 minutes per month free).

Great level of security for you and your visitors!

At no extra cost you can incorporate SiteLock security suite through which you can activate daily malware scans that will prevent your visitors from picking up virus that has been put in your site by some hackers.You can get your domain verified to show your visitors that it is legitimate and no phishing scams are done.Post a badge on your site proving that your site is regularly scanned.
Green certify your blog or website:
You can post a badge on your site which certifies that your website is powered by 100% renewable energy and start a green marketing campaign.Your business might benefit by doing so.

Most important of all – Customer support
We are very happy with the customer support of iPage. Their customer support team is the best in class.Though there are many customers I never waited for more than 4 minutes to chat with  an operator for some support.They come up with handy solutions and always addressed the issues n the best possible way.I could say that the best part of iPage hosting is their customer support and I give them 10/10 in this.No hosting company is of match to iPage's customer support as far as I know.We have tried with other hosts also but found that iPage is great.Their 24/7 phone, live chat and email options are always there to help you out.Their online help center is just brilliant and the ticketing system to notify your issues is also good.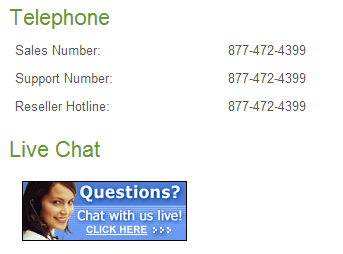 The response from the customer support team was always very quick and the live chat support was excellent.We had few issues with website load time during early days and we have reported a complaint.They have responded immediately and fixed the problem and in few occasions they helped us in fixing few technical problems related to our website which was never their business,I mean the problem was not related to hosting (downtime, slow responses, slow name resolution etc..,).The feature which I liked is that we could get a print of the chat with customer service executive for future reference or even a email with the conversation.
Conclusion on iPage review:
Well their affiliate program is also good and you could make fair amount of money from their affiliate program and sometimes you even get credit on blogging about them.I conclude saying that for a small business, personal and non-profit sites, whose resource requirements are lot to medium iPage (essential plan)is good option.If your website requires huge amounts of resources and gets heavy traffic then opt to a dedicated plan or VPS hosting offered by them.Thus I conclude this iPage review and our experience.
Transfer your website now or sign up now with ipage – iPage Hosting for less than 2 dollars per month (special introductory offer)