As the familiar programming language Java's buzz words are robust,platform independent, secure etc..,the buzz words of IT companies are for sure stress,hair loss control, how to lose weight etc..,
SpinFold's first law for IT employees – Size of tummy and hair loss in IT field is directly proportional to your job level.
While this is the case of people who do have a bit of work,the condition of people on bench is even worse where they have to sit for hours together with no work and all that they gain is weight and salary at the end of the month. Companies have added pain relieving balms(to be applied to portion of body which is keeping the bench warm enough to cook omlet) to the basket of allowances so that they could sit longer on bench .
People who work in IT gain a three tier architecture(their body posture) and they are getting it easily unlike sumos of Japan who eat day and night.No matter how much they workout in gym or try playing, they would gain this perfect three tier architecture and look like Brahmi(famous character of software engineer in the movie Pokiri (Telugu)and remake is Wanted (Hindi))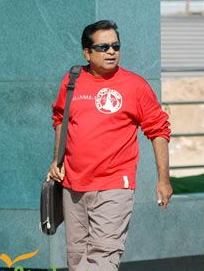 The doctors who treat hair loss patients are starting their questionnaire by asking the first question as "Do you work in IT?, Are you a software engineer?".There is no solution and you will look like Pitbull soon.
The IT professionals are more worried about the play grounds on their heads which are worsening their chances of getting good proposals in marriage market.They are terrified to upload their profile pic in matrimonial sites and few started uploading pics wearing hat or a cap.The sales of hair oil companies which organize ad campaigns saying that hair would grow even on barren lands have made huge profits by selling their products to IT employees without much pain.
Just for fun!!!
Also read: