Note: The procedure to set a custom ringtone for text messages, notifications and phone calls in Moto G (2nd generation) and Moto X (2nd generation) is same.Continue reading to set a ringtone of your choice and get rid of boring default tones.
Motorola has succeeded in giving a fight back to strong giants like Samsung, LG, Sony and Apple in mobile market by releasing game changing phones like Moto G and Moto X in recent times.They have attracted a lot of attention in the recent past and it was Motorola which has started this internet only sales strategy in India and made huge profits where their devices got sold like hot cakes.Motorola is trying to stand tall in the budget smartphones category and has come up with newer versions of Moto G and Moto X.These latest devices are Moto G (2nd generation) and Moto X (2nd generation).These phones have been brilliant so far and have succeeded in all aspects.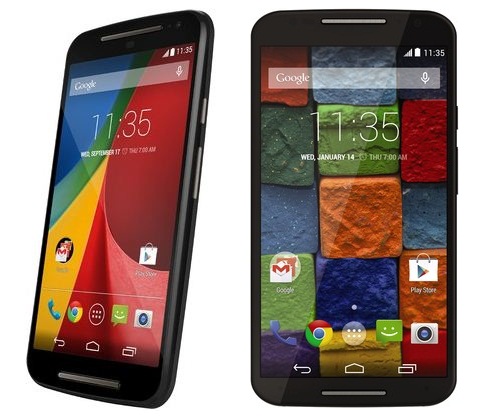 Many Motorola smartphone users do not know that they could easily set a custom ringtone for notifications, messages, phone calls etc., by following few simple and very easy steps.You could also set custom ringtone in moto g 2nd gen and moto x 2nd gen using third party applications available in Google Play Store.I suggest you not to download any third party application as you could easily set a custom ringtone by following the below steps.
Do you have a File Manager of File Explorer installed in your smartphone? If the answer is yes, then you need not connect your device to your computer also.If you do not have a file manager, then download it from Play Store.
You could follow this link to download  :  https://play.google.com/store/apps/details?id=com.rhmsoft.fm
Open your file manager or File Explorer and then find the mp3 file or files you want to use as custom ringtones in your Moto G 2nd Generation or Moto X 2nd Generation.
Now select those files and use the "Copy" option present in the file manager and copy those files.
Now navigate to the Ringtones folder present in your device's internal storage and copy the files into that folder.
Now you can exit the file manager.Go directly to ringtone settings.You could see your copied mp3 files also along with the default one's.Now it's time to select the music of your choice and hear it whenever someone texts you or calls you.
Also read: How to take screenshot in Moto G 2nd generation and Moto X 2nd generation.( The procedure to take screenshot is same in both the devices and it is same in Moto G too)
 All those who do not have a File Manager installed in their smartphone,have to follow the below steps to set ringtone on Moto G second generation or Moto X 2nd Gen
Get ready with all the music files you want to set as ringtones and prepare them in your PC by copying them into a folder for easy copying in next steps.
Now connect your smartphone to the computer with an USB cable provided by Motorola along with your device.(See that Mass Storage is enabled so that you could copy files present in your PC in the internal storage of your phone.)
On connecting your mobile to the PC, you will find a folder called Ringtones in the phone's internal storage.
Copy all the music files of your choice into that folder and disconnect your phone from PC.
Now you could find all the music files which you have selectively copied in your phone ringtone settings.
Add custom message tones and notification tones in Moto G second generation and Moto X second generation
To add the music file of your choice as a custom notification tone or message tone, follow the above mentioned steps and copy the music files into Ringtones folder.Now check the message ringtone settings to find music of your choice.Good news is that you could use your custom ringtones as notification tones for YMail, Gmail and other mailing applications.Find the notification settings for email account and choose the ringtone.That's it, you are done.
Set a different ringtone for each contact in your Moto X 2nd generation and Moto G 2nd generation
Open contacts application in your smartphone.
Now find the contact for which you want to set a different ringtone.
Tap on that contact and under ringtones, tap on the option 'default'.
Select the ringtone of your choice and tap OK.
If you still have any problems setting a custom ringtone in your smartphone, then please do write in the comments section below.
Also read: