Mobile banking transactions are increasing day by day in leaps and bounds.Security will always remain to be a key concern as the hackers also tend to evolve from time to time coming up with new ways of stalking and get hold of sensitive banking details.Every smartphone user must be aware of all possible techniques by which hackers try to trick you and steal your sensitive banking information.In this article I will try to explain you about SIM-Swap Fraud.
What is SIM Swap Fraud?
SIM-Swap Fraud involves a fraudster  issuing a duplicate SIM card which is registered under your name. With a SIM card that shares the same number, the fraudster can stalk and save your bank related information via mobile banking transactions.Always stay alert and follow these easy to follow tips to stay safe.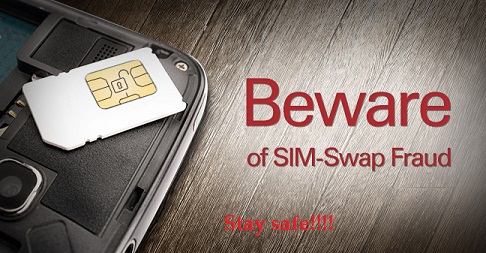 Tips to prevent a SIM-Swap Fraud
Enquire with your mobile operator if you have no network connectivity and you are not receiving any calls or SMS for unusually long periods.
Do not neglect messages sent from your network provider that highlight a probable SIM-Swap.Remember to respond quickly to such messages.
Never switch off your smartphone in the event of you receiving numerous unknown calls.It could be a ploy to get you to turn off your phone and prevent you from noticing a tampered network connection.Even if you are frustrated by such events, do not switch off your smartphone.
Register for instant alerts (both SMS and Emails) that inform you of any activity regarding your bank account.
Check your bank statements and online banking transaction history regularly so you can identify any issues or irregularities.Almost all the banks offer mobile applications to their customers which let them pay their bills,recharge their mobiles,book bus tickets etc., also let the user to have a look at the last 5 transactions, enquire the balance etc., Use such mobile banking applications to stay safe as you continue to enjoy the benefits of convenient and secure banking.
Also read: