Who would not love to own the fastest smartphone out there in the market.Mobile lovers always watch out for latest smartphones which are loaded with new features and enhanced configuration.Release after release the smartphone manufacturers are embedding mightier processors and other hardware in their flagship mobiles to stand tall in the stiff competition.The interesting thing is that companies like LG, Xiaomi,  Huawei, Asus and ZTE are trying to fight out with legends like Samsung, Apple in the field of smartphone manufacturing.
Watch out this space, as we regularly update this article with the world's fastest smartphone for now.
As and when a new mobile gets launched with even more power and brilliant features than the current fastest smartphone, we update it here.
July 2014: It's Xiaomi this time! Their successor to Mi 3 namely Mi 4 has toppled the Samsung's flagship mobile Samsung Galaxy S5, iPhone 5s and also HTC One M8. Isn't that brilliant? Well we are not quite sure for how many days this would remain to be the fastest smartphone but interestingly its not from Samsung, HTC, LG or Apple which are fighting legends out there.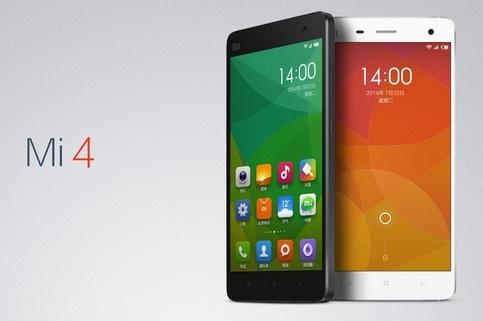 I could say that you have a dragon in your pocket if you own an Mi 4.The craft and feel is beyond imagination.It features a ultra narrow sophisticated steel metal frame, 5 inch screen and is currently the king of smartphone world in terms of performance.It's JDI screen with 1920*1080 resolution has NTSC color gamut values up to 84% which is 17% higher than iPhone 5s. It has the fastest 0.3 seconds focus Sony camera.
Could easily say that apps load faster and is king in the performance as it possesses 3 GB large memory and Adreno 330 graphics processor for faster performance while consuming less power.Its Qualcomm ® Snapdragon ™ 801 quad-core 2.5 GHz processor helps in handling multiple complex tasks with ease.To know about more features of Mi 4, visit www.mi.com. The devices which stand next to this device are Samsung Galaxy S5, LG G3, iPhone 5s, HTC One M8 etc.,
January 2015: It is Samsung this time! Their successor to Galaxy Note 4 namely Galaxy Note 4 LTE A or Samsung Galaxy Note 4 LTE Advanced has toppled the Xiaomi's flagship mobile Mi 4, iPhone 5s and also HTC One M8. This new device is going to be a power packed one as it is going to be equipped with LTE Advanced technology.
It is official that Samsung Galaxy Note 4's latest variant will not be equipped with Qualcomm's Snapdragon 810 processor. There is a speculation that going forward Samsung will stop using Qualcomm's Snapdragon processors in all there devices. The present world's fastest smartphone is going to be equipped with Samsung's own Exynos processor. Samsung says that its Exynos processor will help in smooth running of applications,enhances multimedia experiences,boosts the connectivity,provides better gaming experience on the move and offers longer battery life when compared to other processors.
A little more about Exynos processor: High resolution gaming, security features such as finger print identification, eye recognition and augmented reality, video editing and processing are known to be available only on advanced laptops and Personal Computers. Exynos processor will help in fulfillment of these needs in mobile also. Exynos 7 Octa processor uses a combination of ARM Cortex®-A57 and Cortex-A53 chips to handle different demands at the same moment. Besides the enhanced processing capabilities, it also uses other components like Exynos Modem through which it delivers more reliable connectivity. To know more about Exynos, read here – Five ways Exynos is simplifying lives.
Will publish the remaining details about its specifications and performance once the details are out.
Have to wait and see, for how long this remains the fastest smartphone.Watch out for this space for latest update on the fastest smartphones to be launched in near future.
Also read: