Noun: zest
Pronunciation: (zest)
Zest meaning:
 A piece of orange or lemon peel, or the aromatic oil which may be squeezed from such peel, used to give flavor.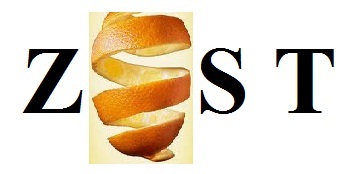 Great enthusiasm and energy; Vigorous and enthusiastic enjoyment;enjoyably exciting quality.          Synonyms: gusto, relish, zestfulness.
Synonyms: piquance, tang
Verb: zest
Zest meaning: Add herbs or spices to
Quotations: Branch Rickey – If things don't come easy, there is no premium on effort. There should be joy in the chase, zest in the pursuit.
Antoine de Saint-Exupery – It is in the compelling zest of high adventure and of victory, and in creative action, that man finds his supreme joys.
Giada De Laurentiis – I made lemon spaghetti in an early season of 'Everyday Italian,' and to this day people still come up to me and say they love it. It's very, very simple. Basically, you cook the pasta and mix together Parmesan cheese, olive oil, lemon juice and zest and pour it over the pasta.
Jim Anthony – Our philosophies met here. I had never met anyone with more zest for life.
Sunil Gavaskar – The Indian selectors could do well to follow the West Indian policy and alternate tournaments for Javagal Srinath. This way he will be able to keep in touch with international cricket and also keep his zest and energy for test cricket.
Sample sentences:
Liberality of disposition and conduct gives the highest zest and relish to social intercourse.

They have a real zest for life.
Actor's humor added zest to the performance.
True happiness comes from the joy of deeds well done, the zest of creating things new.
Zest is the secret of all beauty. There is no beauty that is attractive without zest.
If you have zest and enthusiasm you attract zest and enthusiasm. Life does give back in kind.
Forbid a man to think for himself or to act for himself and you may add the joy of piracy and the zest of smuggling to his life.
Give me the comma of imperfect striving, thus to find zest in the immediate living. Ever the reaching but never the gaining, ever the climbing but never the attaining of the mountain top.
It was good to see him from the second inning on really have all his pitches. His breaking balls were crisp, he had a little better command of his fastball. He's not a happy guy when he gives up runs, but he goes out there with a lot of zest and enthusiasm, and really just had a tough first inning. The good ones don't let innings affect them.
He had this zest to discover people and in discovering them, if they were in need, he tried to help them.
If the next generation is to face the future with zest and self-confidence, we must educate them to be original as well as competent.
When anything gets freed, a zest goes round the world.
He's energetic, vibrant, and full of zest and love of opera.
He bowled yesterday and seemed to have lost none of his zest. He is capable now of giving 100 percent.
Persian pussy from over the sea demure and lazy and smug and fat none of your ribbons and bells for me ours is the zest of the alley cat.